Fall | Spring | Resources | Advising | Faculty | Newsletters | Alumni | Activities | Instrumentation | Campus Map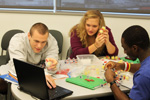 Fall Courses
Chemistry (Chem 117)

Instrumental Analysis: NMR & IR (Chem 225)

Organic Chemistry I (Chem 230)

Molecular Modeling, Visualization, and Computational Chemistry (Chem 245)

Solid State Chemistry (Chem 250)

Professional Tools (Chem 280)

DNA & Protein Biochemistry (Chem/Bio 300)

Advanced Topics (Chem 370)

Wine Chemistry

Chemistry Seminar (Chem 380)

Senior Thesis (Chem 385)

Independent Research - Special Projects (Chem 390)

Independent research is arranged with individual professors. Student research fellowships are available! For research interests, see the faculty links.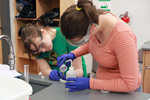 Spring Courses
Chemistry (Chem 117)

Nanochemistry (Chem 150)

Environmental, Analytical and Geochemistry (Chem 220)

Organic Chemistry II (Chem 235)

Professional Tools (Chem 280)

Thermodynamics and Kinetics (Chem 240)

Nutrition and Metabolism: Biochemical Mechanisms (Bio/Chem 260)

Chemistry Seminar (Chem 380)

Senior Thesis (Chem 385)

Independent Research - Special Projects (Chem 390)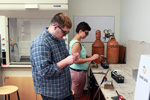 Other Courses
Nanotechnology (FYI 100)


Garbage (FYI 100)

Scientific Glassblowing

Women's Health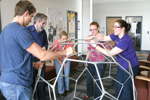 Resources & Journals
ChemDraw (registration requires Beloit email address.)

Software (Download chemistry course software)

Safety (Chemical Hazard Evaluations)

Chemical databases (Structure, properties, synthesis)

Journals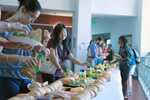 Advising & Schedules
What can I do with a Chemistry major?

Checklists for majors offered in the department

Chemistry
Applied Chemistry
Biological Chemistry
Environmental Chemistry
Biochemistry
Chemistry Minor
Individual Advising Maps

More information & links

Chemistry course schedule:
Chemistry course descriptions and prerequisites
Academic Calendar
Final Exam Schedule
Performing Arts Calendar
Course Schedules (Portal)
Beloit College Catalog
Schedule Planning Sheet (pdf)
Special Project Contract
LAPC Completion Form
Student Grant Request for Science Conference Travel (google form)
Lists
Faces
Email address lookup
Work Request (Physical Plant and ISR)
Room scheduling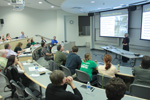 News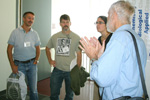 Alumni
Find out what Beloit Chemistry Alumni are up to in the Alumni News section of the the annual newletters

Let us know what you are doing, and we will put it in the next annual newsletter!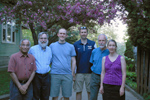 Faculty
Analytical chemistry
Biochemistry

Kristin Labby

Organic Chemistry

George Lisensky - Chair

Inorganic & environmental chemistry, materials science, nanotechnology
Organic, medicinal chemistry, feminist science studies, health & society

Brock Spencer (emeritus)

ChemLinks Coalition principal investigator, environmental chemistry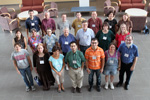 Activities & Awards
Certified by the American Chemical Society since 1949

The U.S. Green Building Council's has certified the Beloit College Science Center at the Platinum Level.

cCWCS Workshops at Beloit College

Renewable Energy

2016, 2014, 2012, 2010

Materials Science and Nanotechnology

2015, 2013, 2009, 2007, 2005, 2004

A nationwide systemic change initiative headquartered at Beloit College that was funded by the National Science Foundation.

MRSEC - Exploring the Nanoworld (collaboration with UW Madison)

The Materials Research Center for Nanostructured Materials and Interfaces produces educational resources for exploring the world of nanotechnology. Links to Online Resources

Girls and Women in Science

A hands-on science workshop for 6th grade female students, their parents, and teachers, hosted by Beloit College students.

MACTLAC at Beloit College

Annual Meeting, October 21-22, 2011.
Our unusual "lab first" general chemistry course has received national attention as a "Program That Works."

Gas Chromatographs (NSF DUE-0126580)

Enhancement of the Organic Chemistry Laboratory Curriculum Using Temperature-Programmable, Computer-Controlled, and Network-Accessible Gas Chromatographs funded by the National Science Foundation.

Ultrafast Laser Fluorescence Laboratory (NSF DUE-9952604)

An undergraduate physical chemistry laboratory funded by the National Science Foundation.
An overseas semester studying the history, culture and environment of Scotland!
Paul Boutwell, Brock Spencer and George Lisensky each were recipients of this prestigious national teaching award.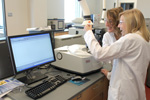 Instrumentation
Chemistry instrument reservations
SEM reservations
Bruker Fourier 300 MHz 1H, 13C Nuclear Magnetic Resonance Spectrometer (NMR)
Anasazi 60 MHz 1H, 13C, 19F, and 31P FT-Nuclear Magnetic Resonance (NMR)
Nicolet iS10 FT-Infrared Spectrometer with diamond ATR (IR)
Varian AA240FS Fast Sequential Atomic Absorption Spectrometer (AA)
Rigaku Miniflex II Powder X-Ray Diffraction Spectrometer (XRD)
NT-MDT Solver NEXT Scanning Probe Microscope (STM and AFM)
Griffin Analytical 400 Gas Chromatograph Mass Spectrometer (GC-MS)
GE ÄktaPrime Plus Liquid Chromatograph (LC)
Agilent 7100 Capillary Electrophoresis System (CE)
ThermoFisher Nanodrop 2000 spectrophotometer
JEOL Scanning Electron Microscope (SEM)
Agilient 6850 Gas Chromatographs (2 GC)
Q-switched YAG laser with 1-Ghz digital oscilloscope
Agilent 8453 UV-VIS Diode Array Spectrometers with temperature controllers (2 UV-Vis)
Ocean Optics UV-VIS Diode Array Spectrometers (12 UV-Vis)
BAS Epsilon Electrochemical System (EC)
Pine electrochemistry systems (4 EC)
Beckman Coulter Avanti J-26 XPI ultracentrifuge
Eppendorf Mastercycler PCR
Branson Digital Sonifier
Shimadzu 5000 Spectrofluorophotometer
ISCO - High Performance Liquid Chromatograph (HPLC)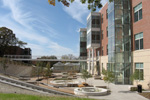 Campus Map
The Science Center is located on the former intersection of Pleasant Street and Emerson Street, GPS coordinates 42.50472, -89.03125




Driving directions:

Take I-90 Exit 185A, Wisconsin 81, into Beloit. When you cross some railroad tracks, the road splits.
Option 1: Take the left fork (Milwaukee Road), signed for Beloit College. Take the third right (Emerson Street). The Science Center will be in front of you when the road ends.
Option 2: Stay on 81 to the right even though the left fork will be signed for Beloit College. Just before the river (third traffic light from the railroad tracks), turn left on Pleasant Street, US 51. The Science Center is the tall building on the left.
Local Menus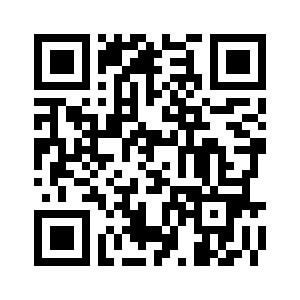 Link to this page
---
Last updated November 25, 2015 by George Lisensky