Nanotubes and Other Forms of Carbon
Carbon is found naturally as graphite, diamond, buckyballs, and nanotubes.
model
shows the structure of one hexagonal layer of carbon atoms, a graphene sheet.
Download
a pdf file with hexagonal sheets. Print on paper to roll your own nanotube. Printing this file on a plastic transparency will let you show this experiment on an overhead projector.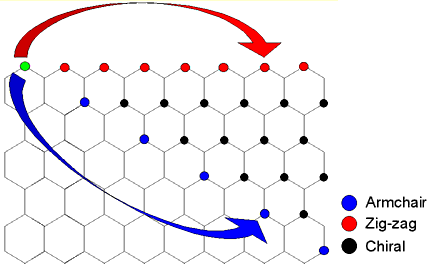 The graphene sheet can be rolled more than one way, producing different types of carbon nanotubes. The three main types are armchair, zig-zag, and chiral.
*Magnetic models created by Eatai Roth, Anne-Marie Nickel, and Tim Herman through the Milwaukee School of Engineering NSF-sponsored REU program using the Rapid Prototyping Center and the Center for Biomolecular Modeling.
---